Tell us about yourself.
Hi, my name is Menghe Zhu and I'm an 18 year old girl. I studied the University of Auckland Certificate in Foundation Studies (Level 3) – Standard for one year, which started in July 2021 and I completed in June 2022. During this year, I have attended the foundation program online and overseas.
My hometown is Wuhan, China, an eight-hour flight from Auckland. I am honored to have traveled nearly 10,000 kilometers to take classes with my teachers and classmates in Auckland, and I have had a fulfilling and enjoyable year at UoA International College. Now, I've graduated from Auckland University foundation studies, and got an offer from Auckland University's Fine Arts for February next year.
Why did you want to study overseas in New Zealand at UPIC/UOAIC? 
My experience is very special. In 2018, I came to Auckland and started high school life in New Zealand, my high school is Rangitoto College. When I studied at Rangitoto College for two years, during the holidays in 2020, I went back to China for the New Year, but because of the impact of Covid 19, my hometown Wuhan turned into a lockdown, so I started a one-year online study at Rangitoto College. However, Rangi does not have a systematic online course, so I applied to the UoA International College. The online course system here is really professional!
Can you share with us your study experience? What are the most fun part and what are the challenges?
In the online learning life of UoA International College, the most challenging thing for me is actually opening the camera. I'm a shy person, and taking online classes with a webcam makes me very uncomfortable. If I were onshore, I might not have this problem. But this has also greatly exercised me, and now I am not afraid to open the camera to communicate online.
"The teachers at UP have been extremely helpful to me. They're all very nice people. For example, if I send them an email to ask questions when I am not in class, they will always reply to me patiently."
Can you describe your daily schedule?
My class schedule is to go to online classes in the morning, and in my free time in the afternoon, I will do my homework and review the lessons. Night is my relaxation time. I usually read novels or play mobile games. I am very fulfilled every day, the combination of learning and entertainment will be very efficient. During the learning process of UP, my self-management abilities improved a lot!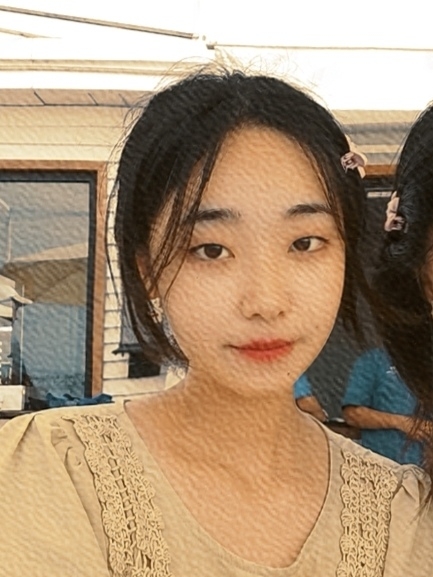 Why did you choose your current bachelor degree? And what inspired you to be in the field that you are currently in now?
For university majors, I received a design/fine arts conjoint offer and a fine arts offer. After many considerations, I chose fine arts, because I love it. Both my father and grandfather are practitioners in this area, and I have loved painting since I was a child. Although design is also a good choice, but I want to dedicate my entire university time to drawing and fine arts. If I choose a double degree, I will have less time for fine arts. I believe I will have a wonderful university life and hope to learn more.
Would you recommend other students to come to New Zealand to study?
I highly recommend students to study in New Zealand, it is a very nice city, the people are friendly and the natural environment is very good. For international students, the biggest challenges are language issues and culture shock. When I first came to New Zealand, my English was not good as well. The way to solve this problem is to speak boldly and not be afraid to say. This day-to-day practice will definitely improve your English ability in a short period of time.

Hope I can see more international students come to New Zealand!